Last Updated on June 13, 2023 by amrita
Bali, the Island of Gods, is a magical destination that offers a unique blend of culture, art, nature, and adventure. Ubud, its cultural capital, serves as the perfect base to explore the island's hidden gems and experience amazing day trips from Ubud. Are you ready to embark on an unforgettable journey through some of the most enchanting landscapes, majestic temples, and exhilarating activities in Southeast Asia? Let's dive in and uncover the best day tours and trips from Ubud that will leave you with memories to cherish for a lifetime!
Short Summary
Explore Ubud's cultural heritage and discover its majestic temples, sacred sites, scenic rice terraces & plantations.

Experience thrilling adventure activities in Ubud's surroundings such as canyoning or sunrise hikes with breakfast.

Enjoy unique local favorites off the beaten tourist path including petulu kokokan birds, tegallalang rice fields & Bali Zoo for a memorable day trip from Ubud.
Exploring Bali's Cultural Capital: Ubud
Nestled amidst lush rice paddies and verdant hills, Ubud is a vibrant town that captures the essence of Balinese culture. Renowned for its distinctive crafts and ancient holy sites, Ubud is a treasure trove of unique experiences waiting to be discovered. From the terraced beauty of the Tegalalang Rice Terrace to the sacred waters of Tirta Empul Mother Temple, every corner of Ubud holds a hidden gem, making it an ideal starting point for day trips to North Bali, South Bali, and beyond.
While in Ubud, you'll also find a plethora of art galleries, traditional markets, and cafes that showcase the rich artistic heritage of the region. As you stroll through the streets, don't forget to take a moment to immerse yourself in the lively atmosphere and soak in the vibrant energy that radiates from every nook and cranny of this enchanting town.
Majestic Temples and Sacred Sites
For a spiritual adventure, embark on a journey to explore Bali's majestic temples and sacred sites. These ancient sanctuaries, steeped in history and tradition, provide a glimpse into the island's rich religious heritage. From the serene beauty of Pura Taman Saraswati to the mysterious allure of Goa Gajah (Elephant Cave), each temple and archaeological site offers a unique insight into the spiritual essence of Balinese culture.
So let's delve deeper into these sacred sites and uncover the mystical stories that lie hidden within their walls.
Pura Taman Saraswati
Dedicated to the Hindu Goddess of knowledge and arts, Saraswati, the Pura Taman Saraswati temple is a stunning example of traditional Balinese architecture. Situated in Bali, this sacred sanctuary is surrounded by a mesmerizing water garden filled with blooming lotus flowers.
Although access to the main temple is not permitted for visitors, the serene beauty of the temple grounds and the tranquil ambiance make it a must-visit destination for those seeking a spiritual experience in Bali.
Goa Gajah (Elephant Cave)
Just a short drive southeast of Ubud lies the mysterious Goa Gajah or Elephant Cave, an ancient temple area that dates back to the 11th century. As you step inside the small cave, you'll discover religious statues and areas of worship, which create an aura of mystique and wonder.
To make the most of your visit, arrive early to avoid the crowds and take a leisurely 30-minute short walk through the lush rice paddies to Yeh Puluh, a lesser-known gem that boasts 14th-century relief art depicting scenes of everyday life.
Pura Gunung Kawi
Pura Gunung Kawi, a Hindu temple complex nestled amidst dense foliage, offers a mystical experience like no other. As you traverse the ancient site, the soothing sound of running water flowing from the nearby river will serenade you, while the monumental shrines carved into rock faces stand as a testament to the remarkable craftsmanship of the past.
Located roughly half and hour north of Ubud, Pura Gunung Kawi is an atmospheric haven where history and nature intertwine, making it an unmissable day trippers destination for those seeking a spiritual experience in Bali.
Pura Tirta Empul Temple
Situated 35 minutes north of Ubud, Pura Tirta Empul water temple is a sacred temple complex renowned for its spring-fed bathing pools, where Hindu devotees come to participate in purification rituals. As you wander through the temple grounds, you'll be captivated by the intricately carved statues, fountains, and ponds that adorn the site.
If you're looking for a unique cultural experience, don't miss the opportunity to witness the powerful spiritual energy that permeates this revered sanctuary.
Scenic Rice Terraces and Plantations
Bali's breathtaking landscapes of cascading rice terraces and lush plantations are truly a sight to behold. Venture beyond Ubud to discover the UNESCO World Heritage-listed Jatiluwih Rice Terraces and the Alas Harum Bali Coffee Plantation, where you can immerse yourself in the island's rich agricultural heritage.
From the vibrant green hues of the terraced fields to the enticing aroma of freshly-brewed coffee, these scenic destinations offer a sensory feast that will leave you in awe of Bali's natural beauty.
Jatiluwih Rice Terraces
The Jatiluwih Rice Terraces, a UNESCO World Heritage Site, are a stunning example of Bali's iconic rice fields, with their verdant, terraced slopes creating a mesmerizing patchwork of greenery. Cultivated using traditional techniques in harmony with the ancient Balinese philosophy of Tri Hita Karana, these rice terraces are a testament to the island's enduring agricultural traditions and the ingenuity of its people.
Located roughly 40 kilometers (25 miles) from Ubud, a visit to the Jatiluwih Rice Terraces is an unforgettable experience that offers a glimpse into the heart of Bali's rich cultural heritage.
Alas Harum Bali Coffee Plantation
Nestled in the picturesque Gianyar Regency of Bali, the Alas Harum Bali Coffee Plantation offers a unique opportunity to explore the world of coffee production and sample a variety of locally-produced teas and coffees.
As you sip on your aromatic brew, you'll be treated to stunning views of the surrounding rice paddy fields, providing the perfect backdrop for a truly immersive experience in Bali's agricultural landscape.
Waterfall Wonders
Bali is home to some of the most incredible waterfalls, hidden amidst lush jungles and cascading down steep cliffs. From the awe-inspiring Sekumpul Waterfall to the serene beauty of Banyumala Twin Waterfall and the enchanting Kanto Lampo Waterfall, these natural wonders offer a refreshing escape from the hustle and bustle of everyday life.
So gather your sense of adventure and prepare to be mesmerized by the captivating beauty of chasing waterfalls!
Sekumpul Waterfall
Tucked away in the heart of Buleleng, North Bali, the breathtaking Sekumpul Waterfall is a sight to behold. With its towering 80-meter cascade, surrounded by verdant jungles, it's no wonder that this stunning waterfall is often hailed as one of the most most beautiful sights in Bali.
While the journey to Sekumpul Waterfall may be an adventure in itself, as you traverse through fields, villages, forests, and coffee plantations, the reward of witnessing this natural wonder up close is truly worth the effort.
Banyumala Twin Waterfall
Located in the picturesque Munduk area of northern Bali, the Banyumala Twin Waterfall offers a tranquil oasis where you can immerse yourself in the soothing sounds of cascading and the beauty of nature. With its serene atmosphere and lush green surroundings, Banyumala Twin Waterfall is the perfect destination for those seeking a peaceful retreat from the world.
So pack your swimsuit and prepare to be captivated by the enchanting beauty of this little known wonder.
Kanto Lampo Waterfall
A visit to the captivating Kanto Lampo Waterfall is a must for anyone seeking an off-the-beaten-path experience in Bali. Situated in the Kelod Kangin hamlet, Beng village in Gianyar, this enchanting waterfall is just a short 20-minute drive from Ubud and offers a unique opportunity to witness the beauty of nature up close.
With incredible views of its crystal-clear waters and lush surroundings, Kanto Lampo Waterfall is the perfect spot for a refreshing swim or a quiet moment of reflection amidst the splendor of Bali's natural landscape.
Adventure Activities in Ubud's Surroundings
For those seeking a thrilling adventure amidst the breathtaking beauty of Ubud's surroundings, look no further than the exhilarating Canyoning Adventure at Gitgit Canyon. With lush jungles, steep canyons, and natural springs, this adrenaline-pumping activity promises an unforgettable experience that will leave you with a newfound appreciation for the wild side of Bali.
From the moment you arrive, you'll be surrounded by the beauty of the canyon, with its towering cliffs and cascading waterfalls. You'll be guided by experienced instructors who will provide you with a private tour guide and all the necessary safety equipment and instructions. As you will see, you're right.
Canyoning Adventure at Gitgit Canyon
Prepare to unleash your inner adventurer as you embark on a pulse-pounding journey through the rugged landscapes of Gitgit Canyon. This exhilarating canyoning experience will take you through a series of jumps, slides, and rappels within a gorge hewn from volcanic rock, challenging your physical limits and igniting your spirit of adventure.
As you navigate the lush jungles, deep canyons, and natural, hot spring, you'll be rewarded with a sense of accomplishment and awe at the breathtaking beauty of Bali's untamed wilderness.
Undiscovered, Hidden Local Favorites
For those in search of authentic, off-the-beaten-path experiences, Ubud offers a treasure trove of undiscovered local favorites. From the exhilarating Sunrise Mount Batur Hike with Breakfast to the idyllic Swinging High in Ubud, these lesser-known attractions provide a unique glimpse into the heart and soul of Bali.
So, step off the well-trodden tourist trail and embark on a journey of discovery as you uncover the hidden delights that lie just beyond the bustling streets of Ubud.
Sunrise Mount Batur Hike with Breakfast
For an invigorating start to your day, join the Sunrise Mount Batur Hike with Breakfast, a guided tour that takes you to the summit of Mount Batur, an active volcano in Bali, for a breathtaking sunrise view.
As you trek up the mountain in the early hours of the morning, the sky will gradually lighten, revealing a stunning panorama of the surrounding landscape. At the summit, you'll be treated to a traditional Balinese breakfast as you marvel at the beauty of the rising sun, creating unforgettable memories that will last a lifetime.
Swinging High in Ubud: The Ubud Swing Experience
For a thrilling adventure that combines the beauty of Ubud's lush landscapes with the excitement of swinging high above the ground, look no further than the Ubud Swing Experience. This unique attraction features a series of swings set amidst the verdant jungle, offering breathtaking views of the surrounding rice terraces and valleys below.
As you soar through the air, you'll feel a sense of freedom and exhilaration that is truly unmatched, making the Bali Swing Experience a must-try activity for anyone seeking a thrill in Bali.
A Symphony of Wings: Visiting the Petulu Kokokan Birds
For a truly enchanting experience, find a local guide and make your way to the village of Petulu Gunung, a central location where thousands of herons and egrets converge each evening to roost in the palm trees and plentiful green foliage. As the sun begins to set, these graceful birds take to the skies, creating a mesmerizing symphony of wings that is truly a sight to behold.
This one-of-a-kind spectacle offers a rare glimpse into the natural world and provides a unique opportunity to observe these beautiful creatures in their natural habitat.
Verdant Vistas: The Tegallalang Rice Fields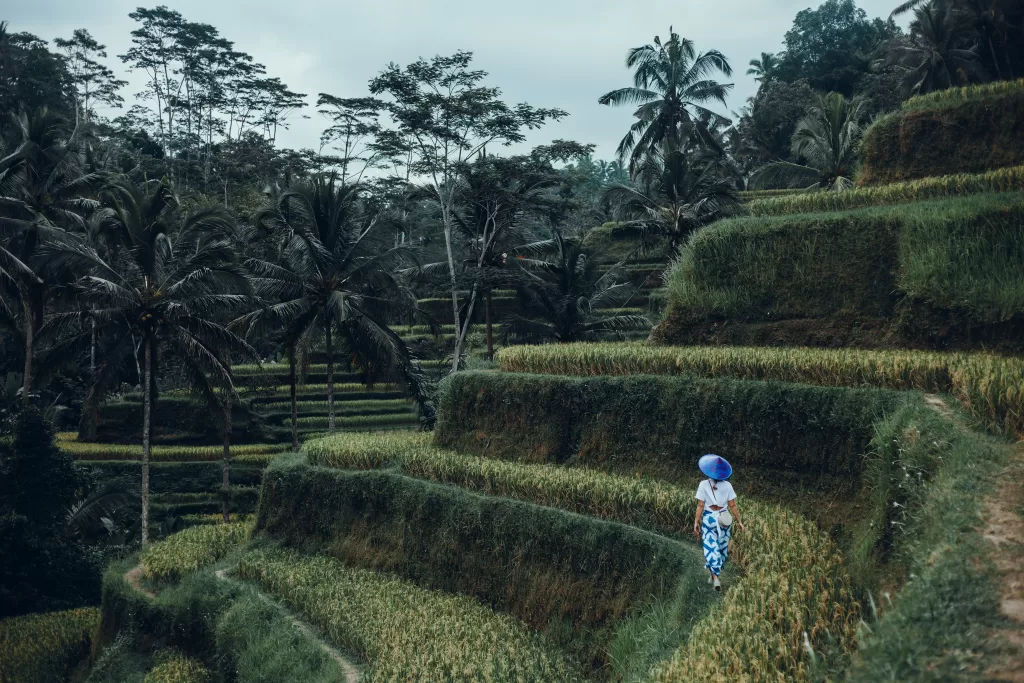 The Tegalalang Rice Fields, a UNESCO World Heritage Site, offer a breathtaking panorama of Bali's iconic terraced landscape. As you wander through these verdant fields, you'll be captivated by the lush green hues and intricate patterns that have been meticulously cultivated over generations.
A visit to the Tegalalang Rice Terraces is a must for anyone seeking to experience the tranquil beauty of Bali's countryside and gain a deeper understanding of its rich agricultural heritage.
Wild Encounters: A Day Tour at the Bali Zoo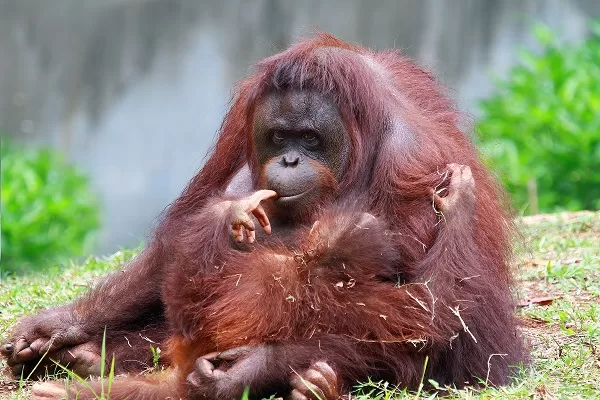 For a truly wild adventure, spend a day exploring the Bali Zoo, where you'll encounter over 500 rare and exotic species, including tigers, elephants, orangutans, and Komodo dragons. As you stroll through the verdant, tropical grounds, you'll be immersed in the sights, sounds, and smells of the animal kingdom, providing an unforgettable experience for animal and nature lovers, of all ages.
With its diverse range of creatures and engaging activities, a day at the Bali Zoo is a must for any nature enthusiast visiting Ubud.
Surf's Up at Keramas: Bali's Hidden Surfing Paradise
For those seeking to ride the waves in Bali, the hidden surfing paradise of Keramas beach awaits. Known for its heavy right-hander wave breaking over a shallow section of reef, Keramas offers a thrilling surfing experience for both novice and experienced surfers alike.
As you carve through the crystal-clear waters, you'll be captivated by the stunning ocean views and the excitement of catching the perfect wave. So grab your board and head to one of the best reef breaks for an unforgettable surfing adventure in Bali.
Island Escapes: Nusa Penida and Nusa Lembongan
If you're longing for an island escape, look no further than Nusa Penida and Nusa Lembongan, two idyllic islands off the coast of Bali. These paradisiacal destinations offer world-class diving, pristine beaches, and unique cultural experiences that will leave you enchanted.
Whether you're exploring the underwater wonders of the coral reefs, wandering through traditional seaweed farming villages, or embarking on a mangrove tour, the magic of a boat ride and Ubud day trip to Nusa Penida and Nusa Lembongan is sure to captivate your heart and soul.
North and East Bali Excursions
For an unforgettable journey through the lesser-traveled regions of Bali, venture out on a day trip to North and East Bali, where you'll discover majestic temples, picturesque water palaces, and breathtaking sights that will leave you in awe.
From the awe-inspiring Besakih Temple and the mystical Lempuyang Temple to the serene Tirta Gangga Water Palace and the dramatic Ijen Crater on Java Island, these excursions offer a unique opportunity to delve deeper into Bali's rich history, culture, and natural beauty.
Culinary Experiences in Ubud
As the cultural heart of Bali, Ubud is also a gastronomic paradise, offering a diverse array of culinary delights that will tantalize your taste buds. From traditional Balinese dishes like babi guling (suckling pig) and nasi campur (mixed rice), to international cuisine and fusion fare, the food scene in Ubud is truly a feast for the senses.
So whether you're a foodie looking to sample local delicacies or simply in search of a delicious meal, Ubud's vibrant dining scene has something to satisfy every palate.
Art and Culture Immersion
A visit to Ubud is not complete without immersing yourself in the rich tapestry of art and culture that the town has to offer. From traditional Balinese painting and textile art to exquisite wood carvings and mesmerizing dance performances (such as the Barong or Kecak fire dance), Ubud is a treasure trove of artistic expression and cultural heritage.
To delve deeper into the world of Balinese art and culture, make sure to visit the town's numerous art galleries, museums, and cultural centers, where you can marvel at the craftsmanship and creativity of the local artisans and gain a deeper understanding of the traditions that shape this vibrant community.
Tips for Planning Your Day Trips
When planning your day trips from Ubud, it's important to consider transportation options, budgeting, and safety. Hiring a private driver is often the most convenient and comfortable way to explore Bali, allowing you to sit back and enjoy the journey while your driver navigates the chaotic roads.
Be sure to budget for entrance fees, meals, and any additional activities you wish to partake in, and always prioritize your safety when visiting unfamiliar destinations.
With a little planning and preparation, you'll be well on your way to discovering all the many other temples, rarely explored sites, and unforgettable experiences that await you on these day trips from Ubud.
Where to Stay in Ubud
In Ubud, you'll find a wide range of accommodation options to suit every budget and taste, from budget-friendly hostels to chic boutique stays. To help you choose the perfect place to rest your head after a day of exploring, we've compiled a shortlist of the best hostels and boutique stays in Ubud, with a focus on amenities, staff friendliness, and complimentary breakfast.
Whether you're traveling solo, as a couple, or with a group of friends, you're sure to find a welcoming home away from home in the heart of Bali's cultural capital.
Summary
From the majestic temples and sacred sites to the breathtaking rice terraces and waterfalls, the island of Bali offers a wealth of hidden gems and unforgettable experiences just waiting to be discovered. With day trips from Ubud, you can explore the vibrant cultural capital, as well as embark on a variety of other ventures that will take you off the beaten path and into the heart of Bali's rich history, culture, and natural beauty. So pack your bags and set out on a journey of discovery, and let the magic of Bali captivate your heart and soul.
Frequently Asked Questions