Last Updated on September 2, 2023 by amrita
Ubud, Bali is home to some of the most breathtaking waterfalls that offer a refreshing escape from the tropical heat. These natural wonders are the perfect destination for adventurous travelers in search of serenity and inspiring beauty. Cascading down rocky cliffs or lush rainforest landscapes, these ubud waterfalls present incredible photo opportunities and awe-inspiring experiences.
Immerse yourself in the tranquility of Tegenungan Waterfall, located just outside Ubud's city center. This waterfall is one of Bali's most popular tourist attractions, known for its picturesque location and crystal-clear waters. Another hidden waterfall gem is Tibumana Waterfall, a stunning oasis set within a dense jungle landscape. Still, if you crave an adrenaline rush, Sekumpul Waterfall promises an exhilarating trek through rice terraces and dense forest to get there.
ALERT: HIDDEN WATERFALL GEM NEAR VILLA AMRITA!!!
The Bayad Tegallalang waterfall on the Ulun Petanu river is a private can't miss destination accessible from Villa Amrita in just 20 minutes.

Map
While some of these hidden waterfalls require a bit more legwork to reach, they reward visitors with unforgettable views and refreshing swim opportunities away from the hustle and bustle.
Mapped Locations to Each Waterfall from Villa Amrita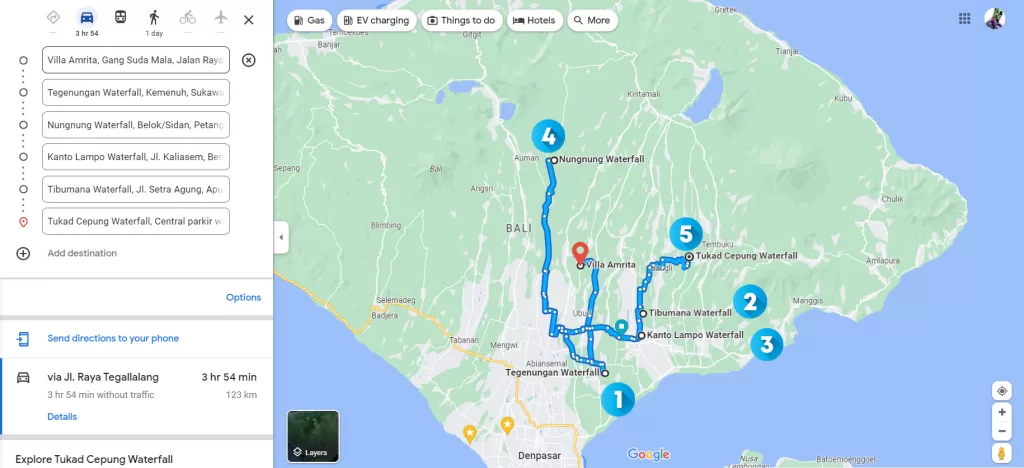 Legend has it that these majestic bali waterfalls are not just beautiful spots – but were once deemed sacred by ancient Balinese people who would use them as offerings during rituals. It is said that locals believed spirits inhabited rivers and even most bali waterfalls; hence they treated them with great respect. Even today, these cascading falls continue to captivate locals and foreign visitors alike with their enchanting beauty.
Prepare to fall for the enchanting charm of waterfalls near Ubud, Bali but don't worry, the only thing that'll be plunging is the water.
Just 35 minutes to Beij Griya Waterfall
from Villa Amrita
Finding Waterfalls Near Ubud
To find all the best waterfalls in Bali, you need to know where to look. In order to help you with that, this part of the article discusses the top and lesser-known waterfalls near Ubud. Both sub-sections offer unique experiences for waterfall chasers.
Top Waterfalls Near Ubud
Ubud is renowned for its breathtaking natural beauty, including numerous waterfalls that visitors can explore. These cascading wonders captivate the hearts and minds of all who seek to witness their majesty.
• One such stunning waterfall is Tegenungan Waterfall.
• Hidden away in a Bali jungle sits Nungnung Waterfall.
• For a peaceful escape, visit Kanto Lampo Waterfall.
• Nearby Tibumana Waterfall offers dramatic drops and serene pools.
• Finally, Tukad Cepung Waterfall requires some trekking to reach but rewards with great waterfall and natural archways over the water.
Aside from their inherent beauty, these bali waterfalls each offer unique experiences to anyone who visits – from the seclusion of Kanto Lampo to the adventurous treks required for Tukad Cepung.
In ancient times, Bali's locals also believed that waterfalls were home to gods and goddesses and worshipped them as such. With their raw power and transformative beauty, it's understandable why these bodies of moving water have fascinated humans since time immemorial.
Tegenungan Waterfall
Visiting the cascading wonder of Bali, this waterfall boasts an impressive height of 15 meters and is known as a must-visit tourist spot in Ubud. Located a short distance from the center of the town and surrounded by lush greenery, Tegenungan Waterfall is easily accessible by foot with a bamboo bridge for convenience. Cool off from Bali's tropical heat with a refreshing swim beneath the falls or explore the scenic pathways leading to stunning lookouts.
Remember: Please prepare 20,000 Indonesian rupiah for the tegenungan waterfall entrance fee.
Take note, on holidays and weekends this site can become crowded with visitors; therefore, it is best to arrive early in the day for optimal tourism experience. But do not worry because there are plenty of restaurants and cafes located nearby for refreshments.
Fun fact: The name "Tegenungan" comes from the Balinese word "tegenun," meaning "to hit against," which represents how strong the water hits the riverbed below.
There are a lot of vendors and food stalls here, including a large terrace and restaurant above looking over the waterfall. The are a limited number of loungers and from time to time you may even see a bamboo raft floating on the water.
Why settle for just a pool when you can have a natural, refreshing shower at Tibumana Waterfall?
Tibumana Waterfall
Set amidst the lush greenery, Tibumana Waterfall is a serene natural beauty near Ubud. The second waterfall in our series of top waterfalls is Tibumana, located in Bangli.
Tibumana Waterfall is a hidden gem for those seeking peace and tranquility. Surrounded by vibrant flora, freshwater streams, and stunning rock formations, it offers an unforgettable experience. The best part is that you can take a refreshing dip in its crystal-clear waters on hot summer days.
What sets Tibumana apart from other waterfalls is the easy access to it. There's no need to hike or trek through rough terrain to reach this magnificent waterfall. If you want to escape the hustle and bustle of Ubud for a day trip, then Tibumana Waterfall is perfect for you.
To make the most out of your trip, bring a picnic lunch to enjoy with your loved ones while admiring the breathtaking scenery around you. But if you forget to pack food, If you like local food, there is nice nasi bungkus available to anyone determined to find it. Don't forget to pack some extra clothes as things can get wet when swimming near the falls.
In short, Tibumana Waterfall is undoubtedly one of Bali's finest natural treasures that should be on everyone's bucket list when visiting Ubud or Bali in general. Who needs a spa day when you can get a natural water massage at Kanto Lampo Waterfall?
Kanto Lampo Waterfall
This waterfall is known as the 'Waterfall of Kanto Lampo'. The scenic beauty and serene environment make it a popular tourist attraction in Ubud. One can indulge in swimming or just sit back and unwind amidst the enchanting surroundings.
The Kanto Lampo Waterfall is accessible through a small trek that boasts some magnificent views. Once there, visitors are greeted by cascading and powerful waterfalls, creating a soothing atmosphere. The waterfall's height measures around 15 meters, giving off an impressive view and tranquilizing sound.
During the rainy season, the waterfall receives more extensive footfall than usual. Visitors should take extra precautions while trekking through slippery paths leading to the fall, especially during this time of year.
The best time to visit would be early morning or late afternoon when sunlight pierces through the jungle canopy, creating awe-inspiring natural light displays. Visitors can capture some breathtaking pictures during these times.
To enjoy your visit thoroughly and to stay safe, bring items such as sandals with good grips, waterproof bags for electronics and of course, a water bottle. One should also wear comfortable clothes suitable for traveling in humid conditions.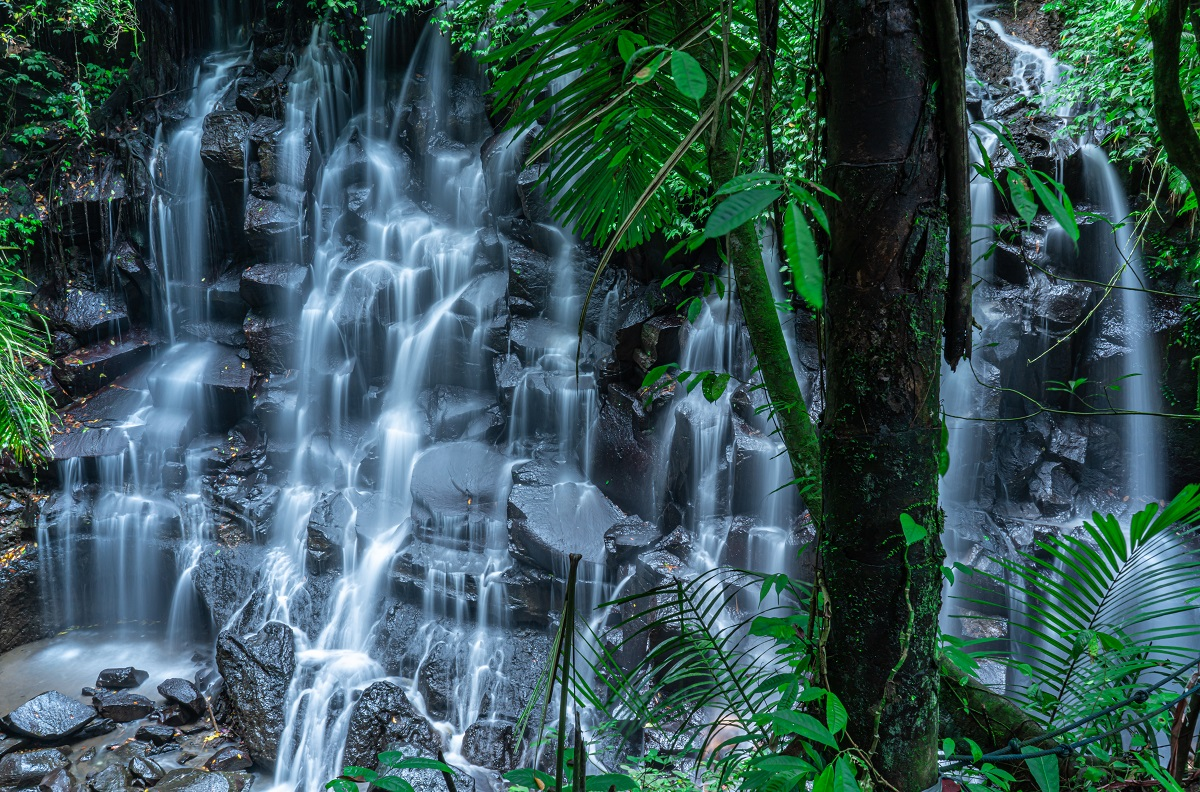 Nungnung Waterfall
Located near Ubud, the fourth waterfall on the list is Nungnung Waterfall. This stunning natural wonder boasts a 50-meter drop and is surrounded by lush greenery. Visitors can access the falls after a short hike and take in the breathtaking scenery.
As one of Bali's taller waterfalls, Nungnung is a popular spot for locals and tourists alike. Visitors are invited to swim in its cool waters or sit back and relax to the sound of cascading water. The trail leading up to the falls is steep, making comfortable shoes a must-have for this adventure.
In addition to its beauty, Nungnung offers visitors an opportunity for peaceful respite away from the hustle and bustle of city life. The serene setting helps one feel connected to nature while enjoying its majestic beauty.
Need a break from the hustle and bustle of Ubud? Find serenity at Tukad Cepung Waterfall and wash away your worries.
If you're looking to escape the hustle and bustle of Ubud, Kuning Waterfall is the perfect spot to take a refreshing plunge and forget all your problems – until you have to hike back up, that is.
Kuning Waterfall
With a height of 15 meters, Kuning Waterfall is a breathtaking attraction near Ubud. The cascading water and lush greenery make it a perfect spot for nature lovers. The trek to the waterfall is an adventurous one with some steep parts.
The trail leading to Kuning Waterfall is well-maintained with several resting spots along the way. The pool at the base of the waterfall offers refreshing swimming options and photo opportunities for travelers. Please note that caution should be exercised while swimming due to strong currents.
In addition to its stunning beauty, Kuning Waterfall is known for its positive energy and serene surroundings. It's believed that bathing in the water has healing properties that can rejuvenate both the body and mind.
According to travel experts at "Culture Trip," Kuning Waterfall is one of the most photogenic waterfalls in Bali, and it's highly recommended for those looking for a peaceful retreat amidst nature.
Need a break from the hustle and bustle of Ubud? Find serenity at Tukad Cepung Waterfall and wash away your worries.
Tukad Cepung Waterfall
Located in Bali, the hidden Tukad Cepung waterfall is a popular destination for those seeking an off-the-beaten-path adventure. This pristine waterfall is nestled within a cave, offering a unique experience that cannot be found anywhere else.
To reach Tukad Cepung, visitors must trek down a narrow path and wade through waist-deep water to enter the cave where the impressive waterfall below awaits. Once inside, they will be greeted with an awe-inspiring view of the cascading falls surrounded by jagged rock formations.
Interestingly, Tukad Cepung was only recently discovered by tourists and has remained relatively untouched due to its secluded location. Despite its growing popularity, this breathtaking waterfall still maintains its natural charm and beauty.
I remember my own journey to Tukad Cepung – traversing through winding jungle paths before finally arriving at the hidden cave entrance. The sound of rushing water echoed off the rocks as we made our way towards the rumble of the falls. Upon entering, we were captivated by the ethereal ambiance created by the streaming sunlight filtering through the canopy above and lighting up every inch of this hidden gem.
Pro Tip: It is recommended to wear comfortable shoes when making your way towards this exquisite waterfall. When it comes to waterfalls near Ubud, the best time to visit is not during a monsoon unless you're into extreme water sports.
Sumampan Waterfall
Located in the quiet village of Sumampan, Sumampan Waterfall is a hidden oasis that embodies Bali's natural beauty. This beautiful waterfall, is undoubtedly a must-visit spot for anyone exploring the Ubud region.
As you approach the waterfall, you'll find yourself surrounded by lush vegetation, teeming with vibrant local flora. The tranquil sound of water flowing down the rock formations adds to the overall serene atmosphere. The waterfall also has a small, natural pool at its base, where visitors can take a refreshing dip.
Access to Sumampan Waterfall is relatively straightforward, involving a short walk from the nearby village. The path to the waterfall is well-marked, and the local community keeps it clean and well-maintained.
There's also a small warung (local eatery) near the waterfall where you can taste some delicious local dishes. Just remember to bring a change of clothes as you might get wet while exploring the waterfall. In a nutshell, Sumampan Waterfall is a tranquil retreat that offers a serene escape from Ubud's hustle and bustle.
Taman Sari Waterfall
Situated amidst the dense jungles of Ubud, Taman Sari Waterfall is a mesmerizing spectacle that serves as an ideal spot for nature lovers. The waterfall offers a soothing ambiance with its cascading waters and lush green surroundings.
Reaching Taman Sari involves a moderate trek through a dense forest, where you'll encounter a beautiful blend of local flora and fauna. The path may be a bit challenging, but the enchanting view of the waterfall makes it worth the effort.
The base of the waterfall has a small natural pool where you can take a dip and cool off. It is also a perfect spot for a picnic, so consider bringing some snacks along with you. Don't forget your camera, as the waterfall offers incredible photo opportunities.
Goa Rang Reng Waterfall
Goa Rang Reng translates to "multicolored cave," and once you visit, you'll understand why. This unique waterfall cascades through a cave and splits into multiple streams, creating a stunning spectacle that's unlike any other waterfall in the area.
The trek to Goa Rang Reng is an adventure in itself, taking you through rice fields and jungle landscapes. The trail is well marked and easy to follow, leading you straight to the waterfall.
Despite being lesser-known compared to other waterfalls in Ubud, Goa Rang Reng offers a unique charm that's worth the visit. After a refreshing swim, take a moment to explore the multicolored cave. It's a magical place that feels like stepping into another world.
Whether you're a solo traveler or with a group, these waterfalls provide a great way to experience the natural beauty of Bali and escape from the busy streets of Ubud. Each has its unique charm and offers a peaceful retreat where you can unwind and reconnect with nature.
Best Time to Visit Waterfalls Near Ubud, Bali
To plan your visit to the amazing waterfalls around near Ubud Bali with ease, the best time must be considered. Here are two sub-section solutions – Peak Seasons and Off-Season that can help you decide the perfect time to make the most out of your ubud waterfall tour experience.
Peak Seasons
Waterfall Visiting Trends
Local and international tourists often flock to the best waterfalls in near Ubud to immerse in their natural beauty. However, choosing the best time to visit these best waterfalls in ubud is essential as the seasons impact the overall experience. Here are some trends observed during peak waterfall visiting seasons:
• Visitors increase during weekends and public holidays.
• The rainy season from October to March often makes it difficult to access remote waterfalls.
• Dry seasons like April to September offer easy access and better lighting conditions for photography.
• Early morning hours are less crowded and offer calm and peaceful surroundings for visitors.
• Avoiding midday heat is recommended as it can cause dehydration.
Additionally, several minor factors may affect your visit such as new climate developments. For example, Bali experiences heavy rains occasionally even in June or July, which could indicate an early end to dry season visits.
While these locations represent awe-inspiring bucket-list destinations today, they hold a rich history with local significance as well. According to legend, Tegenungan Waterfall was used by giant ogres who terrorized locals until a priest cast spells on them at this very spot. Regardless of the beliefs involved, there is no doubting that exploring these incredible waterfalls offers a chance to witness cascading displays of nature's beauty while immersing oneself in Balinese culture.
Off-Season
During the quieter months, Ubud's waterfall sites are less crowded and provide a serene atmosphere. This season, also known as the low season or the slow season, is an excellent time to visit these natural wonders with fewer tourists. The off-season typically runs from November through March (Christmas and New Year are notable exceptions) when rainfall is higher.
Visitors during the off-season can experience enchanting waterfalls like Tibumana Waterfall without jostling for prime viewing spots or waiting in long queues. Trekking paths are also more manageable than during peak season due to little foot traffic. Keep in mind that visiting in the rainy season means lower water levels but offers a breathtaking view of lush greenery surrounding the waterfall.
When traveling during the off-peak period, visitors have better access to local eateries and tourist facilities as there is usually no rush and peak-hour lines to get basic services like parking spaces and guides usually don't exist. It's best to plan your trip with proper arrangements made beforehand i.e., essentials like waterproof jackets and shoes.
According to Weather.com, rainfall is at its maximum from December until February, particularly January which records up to 400mm of precipitation on average per month in Ubud area which makes it unsuitable for some outdoor activities such as trekking for extended periods of time around Ubud jungle terrain but shorter walks still remain manageable if properly equipped against downpours.
Roads to these places may be bumpy, but the thrill of getting soaked under the cascading waterfalls makes it worth the ride.
Getting to Waterfalls Near Ubud
To get to the best waterfalls near Ubud Bali, you need to consider the best way of transportation. Private transport, motorbike rental, or organized tours can all be viable options for you to explore. Let's take a closer look at each of these sub-sections and find the best solution for you to reach the waterfalls with ease.
Private Transport
Travel in Comfort with Your Own Vehicle
Explore the beauty of the best Ubud waterfalls using a private mode of transport. You can avoid the hassle of public transportation and enjoy the journey at your own pace. Renting a car, motorbike or hiring a driver are good options for private transportation.
If you opt for a driver, ensure they have sufficient experience driving on mountainous roads. Additionally, renting your own vehicle gives you more flexibility with parking locations and allows you to stop spontaneously on the route.
To find reliable and safe rental options, consult online reviews thoroughly before making any reservations. Planning beforehand will help locate nearby gas stations along routes, but be aware that road conditions may vary from time to time.
Who needs a gym when you can rent a motorbike and dodge potholes on the way to Bali's breathtaking waterfalls?
Motorbike Rental
For those looking for a way to explore the spectacular waterfalls around Ubud, there is a practical solution available: renting a motorbike.
• Conveniently rent a motorbike from multiple locations in Ubud
• Affordable price ranges from IDR 50,000 – IDR 80,000 per day
• Select from varied models and makes including automatic scooters and manual bikes
• Most rental providers require an ID, valid international driver's license and some form of deposit
• Check the bike's condition before renting and make sure it has enough fuel to reach your destination
To ensure maximum safety, always follow local traffic rules, helmet laws and avoid driving at night.
Pro Tip: Carry sufficient cash as not all rental providers accept card payments.
Organized Tours – Test
For those looking for convenience when visiting waterfalls near Ubud, group tours are available.
• Joining an Organized Group – Consider booking an organized group tour to save time and eliminate the hassle of arranging transportation and entry into the park.
• Tour Guides – Experienced guides can offer insight into the area's history while providing added safety during your visit to the popular waterfall below.
• Additional Activities – Some group tours include stops at nearby attractions, such as temples or local markets.
• Cost Efficiency – Group tours are often more cost-effective than hiring a private guide or renting a car.
For those with limited time in Ubud, joining an organized tour is an efficient way to explore the nearby waterfalls without worrying about logistics.
Don't forget a waterproof camera, because the only thing better than experiencing the beauty of waterfalls near Ubud is capturing it for your Instagram followers.
What to Bring to Waterfalls Near Ubud
To prepare for a successful trip, you need to bring a few essentials. With "What to Bring to Waterfalls Near Ubud" as your guide, you'll learn what to pack for a comfortable and enjoyable experience. Comfortable clothing, swimming attire, proper footwear, and water and snacks are all items you'll want to have on hand.
Comfortable Clothing
When planning to visit a waterfall, it is crucial to have appropriate attire. Your clothing should be lightweight and flexible to avoid any discomfort when navigating through the steep terrain. Sportswear or athletic wear, such as moisture-wicking shirts, shorts, and comfortable sneakers, are ideal.
It is better to avoid flip flops and sandals as they may cause slipperiness in rocky areas. It's wise to bring a hat or cap along with sunglasses to shield your eyes from harsh sunlight.
Additionally, dressing respectfully is of utmost importance as it shows good manners towards local culture. Pack a sarong or long skirt for women and a sarong for men since Bali has several Hindu temples that require covering legs.
When visiting a waterfall during the rainy season, be mindful to pack waterproof gear alongside your normal clothes. Some light rain jacket will do well.
Swimming Attire
For Waterfall Trips, Suitable Swimwear is a Must-have.
When planning a day trip, it's essential to bring appropriate swimwear. Here are the top five pointers for what to wear while enjoying the cool cascading waters:
1. Opt for sports or athletic swimsuits as they offer better comfort and flexibility.
2. Avoid wearing cotton clothing as it retains moisture and takes time to dry.
3. Sarongs and cover-ups can provide extra coverage and protection from sunburn.
4. Comfortable sandals with good grip are ideal for walking on slippery surfaces around waterfalls.
5. Pack an eco-friendly dry bag to keep your belongings safe and waterproof.
Did you know that Bali has more than 1000 waterfalls? According to the Bali Tourism Board, there are over 150 located in Ubud alone!
Proper Footwear
Adequate Footwear is a Necessity
The terrain near Ubud's waterfalls requires proper footwear to ensure safety and comfort. Wearing sturdy, comfortable shoes with a good grip can prevent slips and falls on wet ground and rocks. Open-toed shoes, sandals, or flip-flops should be avoided to protect your toes and prevent injuries.
Importance of Proper Footwear
Inadequate footwear has caused numerous accidents at popular waterfalls and near Ubud over the years. A 2019 report showed that most injuries involve twisted ankles or falls due to poor footing. One significant incident involved a tourist slipping while walking on broken glass near Tegenungan waterfall, ankle-deep in muddy water.
It is essential to choose appropriate footwear when visiting waterfalls near Ubud to avoid accidents and ensure an enjoyable experience. Bring comfortable shoes with good traction and waterproof capabilities for longer walks or visits during the rainy season.
Water and Snacks
When exploring the stunning waterfalls in and around Ubud, it is vital to remain well-hydrated and properly fueled to stay energized throughout your adventure. Here are three essential things you should consider:
• Bring at least one bottle of water per person per hour
• Pack snacks rich in protein and fiber for sustained energy, such as nuts or energy bars
• Avoid bringing sugary or salty snacks that may cause dehydration
It is also important to note that some waterfall locations may have limited food and drink options available nearby, so packing appropriate supplies can be crucial.
Precautions When Visiting Waterfalls Near Ubud
To ensure a safe and respectful visit to waterfalls near Ubud Bali, it's important to take necessary precautions. This includes respecting local customs and adhering to their rules. Additionally, being mindful of slipper surfaces is crucial. Lastly, keeping a close eye on your belongings while exploring these beautiful sights can give you peace of mind.
Respect Local Customs
When exploring waterfalls near Ubud, it is vital to uphold local customs as a way of giving back and appreciating the culture. One way to do this is by dressing conservatively and modestly. It is also important to take off shoes before entering temples and prayer areas.
Additionally, use polite language and gestures when communicating with locals. Avoid pointing with your fingers or feet, crossing your legs, or touching someone's head. Respect the environment too by not littering or damaging natural resources.
To avoid disrespecting the local culture, learn about Balinese traditions before visiting. Attend ceremonies if invited and explore the rich cultural scene in Ubud. By doing so, you will create meaningful connections while promoting positive interaction between locals and visitors.
Don't forget your non-slip shoes, or you'll be slipping and sliding like a clumsy penguin at these waterfalls near Ubud.
Beware of Slippery Surfaces
When exploring waterfalls near Ubud, it is crucial to be cautious of the precarious surfaces you may encounter. One's natural instinct when captivated by the pristine beauty of a waterfall is to get as close as possible. However, this can also come with its dangers, particularly on slippery rocks or unstable terrain.
Take great precaution when walking around these areas. Specifically, if there has been rainfall recently, the rocks and pathways could be far more treacherous than usual. Falls can happen due to these dangerous conditions. When moving between exposed rocks and narrow crevices or loose stones along paths try to avoid any potentially hazardous situations.
It's important not to let a moment's distraction distract you from the potential dangers around you. If one isn't prepared for such inconvenient incidents or accidents then it can lead to grave situations or even fatal circumstances.
Recently a local man who was having lunch besides one of these exquisite waterfalls slipped off a rock hurting himself drastically which could have been avoided had he followed basic guidelines of being careful around wet surfaces especially while carrying other objects. So always remember that prevention remains always better than cure when it comes to visiting the most picturesque waterfalls in locations like this one around Ubud and Bali.
Be Mindful of Your Belongings
It is important to be aware of your belongings when visiting waterfalls near Ubud. With the high number of tourists, pickpocketing and theft can occur. Ensure that you keep your valuables securely in a backpack or hidden within clothing. Never leave your belongings unattended, even for a moment.
In addition, it is advisable not to carry too much cash with you. Use credit or debit cards instead and keep an eye on card skimming devices while making transactions at nearby ATMs. This will help reduce the chances of theft and protect your identity from being stolen.
For an added layer of security, consider investing in a waterproof dry bag to store all your electronic devices and documents such as passports and travel tickets. This will safeguard them from accidental damage by water which can be a common occurrence during waterfall activities.
Don't ruin your trip by falling victim to theft or losing personal items. Take precautionary steps beforehand to ensure a worry-free visit to the beautiful waterfalls near Ubud.
Remember, if you don't follow these precautions, you might end up falling harder than your ex's mixtape.
TLDR
Ubud, Bali is home to some of the most breathtaking waterfalls in Indonesia. These waterfalls offer a surreal and peaceful experience that you don't want to miss. Discovering the natural beauty and taking a dip in refreshing waters can make your trip truly unforgettable.
Visiting these beautiful waterfalls can be quite an adventure. Some notable ones include Tukad Cepung Waterfall and Nungnung Waterfall. Each one offers its unique charm and beauty that is worth exploring.
It's important to note that hiking down to some of these waterfalls can be challenging. However, once you reach the bottom, it's all worth it. The sound of gushing, chasing waterfalls and stunning views make it an ideal spot for photographers and nature lovers alike.
Pro Tip: It's best to visit these waterfalls early in the morning or late in the afternoon when there are fewer crowds. This will give you ample time to enjoy your surroundings and take picturesque snaps without any disturbance!
Frequently Asked Questions
Q: How far are the waterfalls from Ubud?
A: The distance between Ubud and the waterfalls varies depending on which one you visit. Tegenungan waterfall is the closest, located only about 10 km from the Ubud centre. Kanto Lampo waterfall is around 15 km, Tibumana waterfall is around 18 km.
Q: Are there any fees to enter the waterfalls?
A: Yes, there are usually small entrance fees to visit the waterfalls. The fees range from 10,000 to 20,000 Indonesian rupiahs (approximately 70 cents to $1.50 USD).
Q: What is the best time to visit the waterfalls?
A: The best time to visit the waterfalls is during the dry season (April-October) when the water levels are lower and allow for easier swimming and better photo opportunities. However, if you want to see the waterfalls at their fullest, visit during the rainy season (November-March).
Q: Are the waterfalls safe to swim in?
A: It is generally safe to swim in the waterfalls, but it is important to exercise caution and pay attention to any warning signs or advice from locals. The waterfalls can have strong currents, and some may have rocks or other hazards.