Last Updated on July 2, 2023 by amrita
Ubud, a vibrant town in Bali, is known for its lush rice paddies and terraces, rich cultural heritage, and stunning beaches. What if we told you that some of the best beaches in Bali are just a short drive away? Keep reading to discover "how far is Ubud from the beach", factors affecting travel time, transportation options, and the must-visit beaches further from Ubud.
Short Summary
Ubud is around 35 to 45 minutes away from the nearest beaches, such as Keramas and Sanur.

Take a motorbike, private shuttle or taxi to get there – but traffic & road conditions can affect travel time.

Check out google maps to see the top 5 nearby beaches for surfing, sunsets & seafood plus 5 others worth the extra journey! Plus explore Ubud's culture & attractions like Royal Palace and Art Market.
Understanding the Distance: Ubud to the Nearest Beach
The closest beach to Ubud is around 30-45 minutes away. Traffic can influence the travel time. Some of the closest other beaches near ubud include Canggu Beach (18 miles or 29 km) and Seminyak Beach (19 miles or 30 km).
While there isn't a specific "Ubud Beach," several beautiful white sand beaches await beach lovers just a short car drive away.
Factors Affecting Travel Time
The travel time from Ubud to the nearest beach depends on traffic, road conditions, and the mode of transportation you choose. Traffic can be particularly challenging during rush hour, causing delays and extending your journey time.
Furthermore, poor road conditions may also affect your travel time, making it essential to plan your beach day accordingly.
Transportation Options
One option for a beach day trip from Ubud is riding a motorbike, which can take you to places like Komune Beach Club. Alternatively, private shuttle services or taxis are also available for a more comfortable journey to the beach.
Regardless of your transportation choice, keep in mind that travel time may vary based on traffic and road conditions.
Top 5 Beaches Closest to Ubud
When visiting Ubud, don't miss the opportunity to explore the awesome beaches closest to town: Keramas Beach, Sanur Beach, Jimbaran Beach, Canggu Beach, and Nusa Dua Beach. Each beach offers tourists a unique experience, catering to different preferences and interests.
Keramas Beach is known for its world-class surfing, while Sanur Beach is known for its world-class surfing.
Keramas Beach
Keramas Beach, the closest beach to Ubud (less than an hour's drive – fastest 35 minutes), is about 20 km away and is famous for its black sand and excellent surfing conditions. Although it might not be the best choice for swimmers, it's perfect for intermediate or expert surfers looking for a thrilling experience.
The wet season offers the best waves for surfing, but it can be unpredictable. Get ready to ride the waves and enjoy the unique beauty of Keramas Beach.
Sanur Beach
Sanur Beach, located 23 km from Ubud, is perfect for families and offers various water activities. The beach is known for its calm waters, making it ideal for children to swim and enjoy the ocean. Additionally, you can try kayaking, jet skiing, kite surfing, or even sea walking during your visit.
Don't miss the beautiful sunrise at Sanur Beach, as it's a sight to behold. It's a magical experience that you won't forget.
Jimbaran Beach
Jimbaran Beach, about 30 km from Ubud and directly next to the denpasar airport, is a popular white sand beach known for its delicious seafood restaurants and unique sea jacuzzi experience. The calm waters make it perfect for swimming and provide a more local atmosphere compared to other touristy beaches.
Soak up the sun, savor the local flavors, and immerse yourself in the laid-back vibe this classic holiday location in Bali.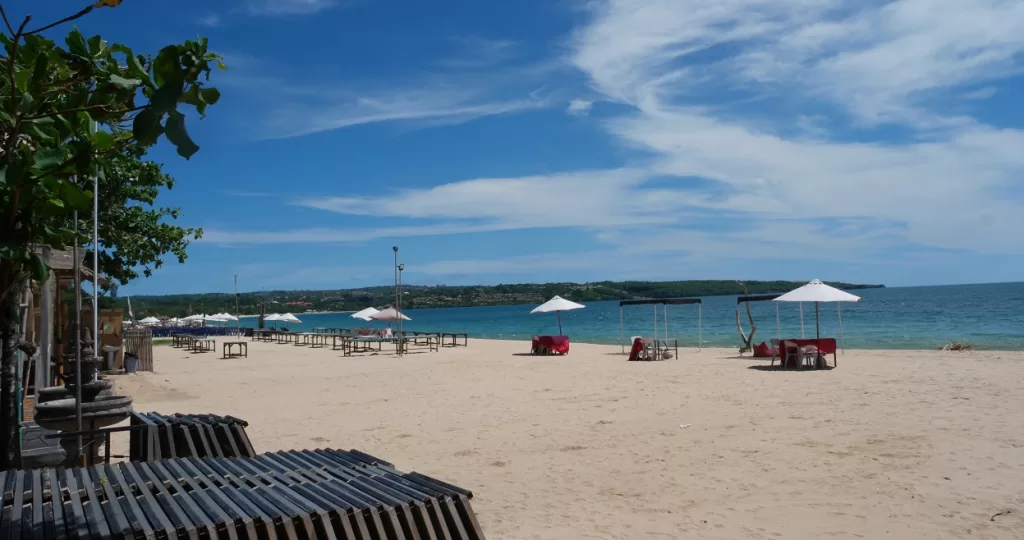 Canggu Beach
Located 35 km from Ubud, Canggu Beach is a favorite among expats and surfers. The lively party scene attracts a younger crowd, making it an exciting place to visit.
Canggu Beach is home to two famous beaches, Echo Beach and Batu Bolong, both known for their strong waves and reliable swell, making them ideal destinations for experienced swimmers and surfers. Don't forget to check out the trendy cafes and healthy dining options available in the area.
Nusa Dua Beach
Nusa Dua Beach, situated 40 km from Ubud, is a luxurious area with pristine beaches, hotels and a variety of water sports activities. The well-maintained beaches and calm waters make it a perfect spot for sunbathing and swimming.
While you're there, don't miss the opportunity to try parasailing, jet skiing, banana boat, or even diving to make your island visit even more memorable.
Must-Visit Beaches Further from Ubud
If you're willing to venture further from Ubud, there are even more incredible beaches to discover, such as Kuta Beach, Seminyak Beach, Secret Beach, and Suluban Beach. Each of these offers a unique experience, so it's worth the extra travel time to explore them.
Kuta Beach
Kuta Beach, located near the Ngurah Rai International Airport, hotel and shopping centers, is a family-friendly beach with various water activities available. The beautiful white sand and clear waters make it ideal for swimming, surfing, and sunbathing.
Enjoy a fun-filled day at Kuta Beach and explore the nearby shopping hubs for an unforgettable experience.
Seminyak Beach
Seminyak Beach, approximately 25 km from Ubud, is a stylish beach known for its stunning sunsets and vibrant atmosphere. The beach is popular among the younger crowd, offering beach clubs, restaurants and bars for a lively party scene.
Enjoy surfing and sunbathing while taking in the breathtaking views of the sunset at Seminyak Beach, a perfect vacation destination for any beach lover. Don't forget to relax on the sun loungers available for your comfort.
Secret Beach
Located on the south-west coast of Nusa Ceningan, a small island near Bali's south-east coast, Secret Beach is a hidden gem with white sand and a fantastic left-hand surf break. The secluded bay features clear blue water and small waves, making it perfect for snorkeling and swimming.
You can reach this in beautiful location on a day trip to Nusa Lembongan. It is possible to leave Ubud at 730am and take a boat across the strait in Sanur by 9 in the morning. The best time to visit this beach is during the dry season, from April to October.
Suluban Beach
Suluban Beach, situated on the southwest tip of the Bukit Peninsula in Uluwatu, South Bali, offers turquoise waters and great surfing conditions. Accessible through a cave after descending a steep staircase, this unique beach is popular for surfing and its natural pools during low tide.
Remember to take the necessary safety precautions and be mindful of strong currents while enjoying this hidden gem.
Pasir Putih Virgin Beach
Located on the eastern coast of Bali about 2 hours from Ubud, Pasir Putih Virgin Beach, also known as 'White Sand Beach', is a secluded paradise. This tranquil retreat offers pristine white sands and crystal clear waters, making it an ideal spot for swimming and snorkeling.
Local warungs line the beach, serving delicious local cuisine and refreshing beverages. Traditional fishing boats, known as 'jukung', dot the shoreline, adding a touch of authenticity. Pasir Putih Virgin Beach is perhaps the best beach and a must-visit when in Bali.
Places to Visit on the West Side
There are really beautiful beaches all along the West coast of Bali. They are fairly isolated and secluded. A jaunt to Balian Beach on the way to Negara is an astonishing location and well worth a long day trip.
Experiencing Ubud's Culture and Attractions
While the beaches surrounding Ubud are undoubtedly alluring, don't forget to explore Ubud's rich cultural heritage and attractions. Delve into the history of the Ubud Royal Palace, shop for local crafts near the famous rice fields in Tegallalang along Jalan Andong, and admire traditional and contemporary Balinese art at the ARMA Museum.
Ubud Royal Palace
Ubud Royal Palace, also known as Puri Saren Agung, is a historical building complex and the residence of the royal family of Ubud, Bali. Built in the 17th century and rebuilt in 1928 after an earthquake, the palace showcases traditional Balinese architecture and cultural performances.
Ubud Art Market
The Ubud Art Market is a traditional market in Bali that sells a wide variety of locally made items, including silk scarves, woven bags, baskets, hats, and kites. Open daily from 8 am to 5 pm, the market is a great destination for shoppers looking for unique souvenirs and handcrafted items.
Support local artisans and bring home a piece of Balinese culture from the fun, interesting and bustling local market.
Agung Rai Museum
Agung Rai Museum of Art (ARMA) is a museum, gallery, and cultural center in Ubud, Bali, founded by a famouse Balinese art collector. The museum features both traditional and contemporary Balinese art, providing a comprehensive understanding of the island's artistic heritage.
Attend cultural events and workshops at ARMA to truly immerse yourself in the vibrant art scene of Ubud.
Beaches are Very Accessible from Ubud
As you probably know, Ubud is a treasure trove of cultural attractions and breathtaking beaches waiting to be explored. Whether you're a surfer, a beach lover, or a culture enthusiast, there's something for everyone in and around Ubud. Head to Komune at Keramas beach for a leisurely day at their beach club or head to Sanur for a classic, slow beach scene. So pack your bags and embark on an unforgettable journey to experience the best of Bali's culture, art, and mesmerizing beachscapes.
Frequently Asked Questions
Does Ubud Bali have a beach?
Unfortunately, Ubud Bali does not have its own beach. Though there are plenty of nice beaches to visit around the area, you will need to travel to them. The closest beach is Sanur, 14 miles (23 km) south.
How far is it from Ubud to nearest beach?
Ubud is a bit far away from any beach. The closest beach to Ubud is Sanur, which is located 14 miles (23 km) away. Some other beaches can be found closer, but they are not as nice.
Is it worth staying in Ubud Bali?
The food, culture, nature, and yoga classes are just some of the unforgettable things you can find in Ubud. It's no surprise that Ubud is a great destination for an enriching holiday.
What are the best beaches closest to Ubud?
If you're looking for the incredible beaches near Ubud, check out Keramas Beach and Sanur Beach Beach aree the closest. However, you can make day trips to Seminyak, Canggu and Nusa Dua.